100% American made, of course.
Bluewater Media at its finest… GoPro perspective, Rock Stars, Shotguns, Catapults, Machine Guns, Phantom High Speed and explosions…. does it get any better? After 2 years of secrecy we can finally tell you what we've been working on. Introducing Kid Rock's American Badass Grill! Cheers to another epic production by the Badass Bluewater staff.

Kid Rock Primed For Summer BBQ Season With 'American Badass Grill'
On Thursday morning (March 9) Rock announced the roll out of his "American Badass Grill," a "100% Made in the USA" charcoal grill that he describes as "tough enough to last season after season, compact enough to take on the road, yet large enough to get the job done right." In fact, Rock says it's the perfect grill for the back yard, bed of your truck or "wherever you want to grill with a little attitude."
The grill — which can hold up to a dozen burgers, or three beer can chickens — comes in a charcoal version for $99.95 (plus shipping and handling) and a gas version for $149.95 (plus S+H), both embossed with Rock's American Badass eagle logo. "I'm not gonna lie. It is more expensive to make things in America. But it's important to me. I love America, and I want to do all I can to create manufacturing jobs at home," Rock says in a statement announcing the grill
And now, please enjoy pics and video of Kid Rock flinging foreign-made grills into the sky with a catapult and shooting them with shotguns: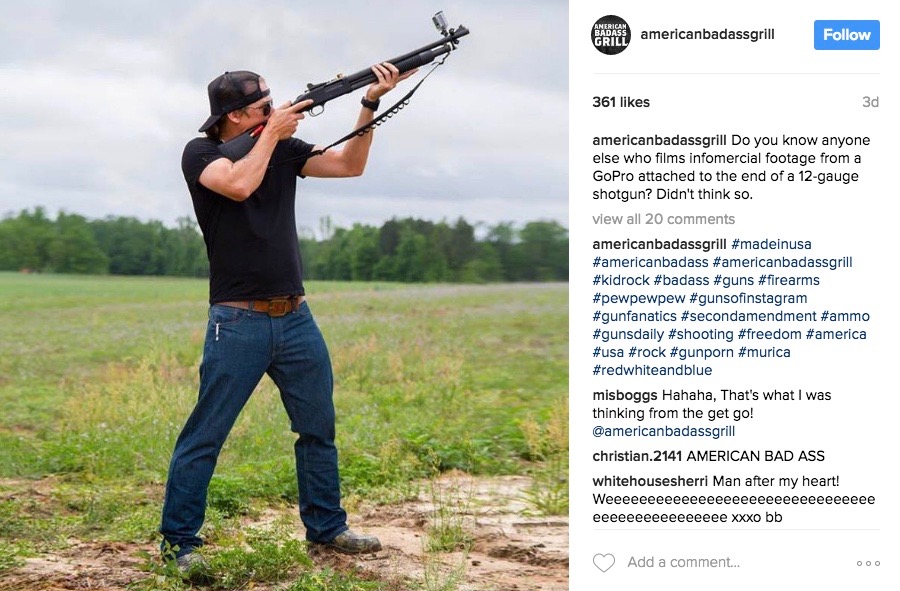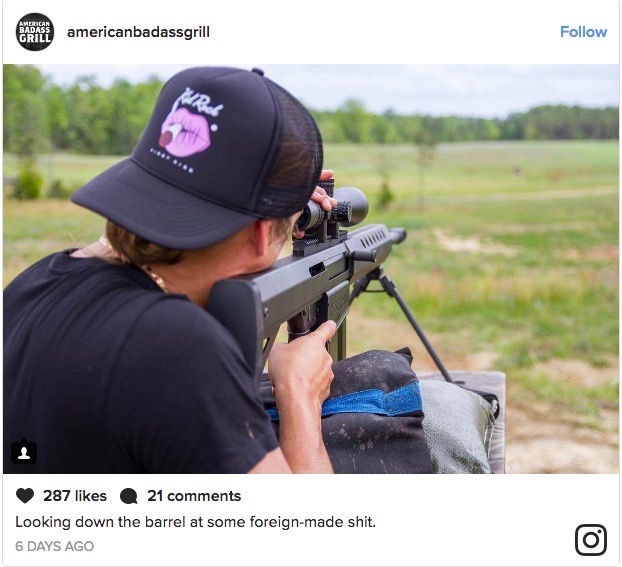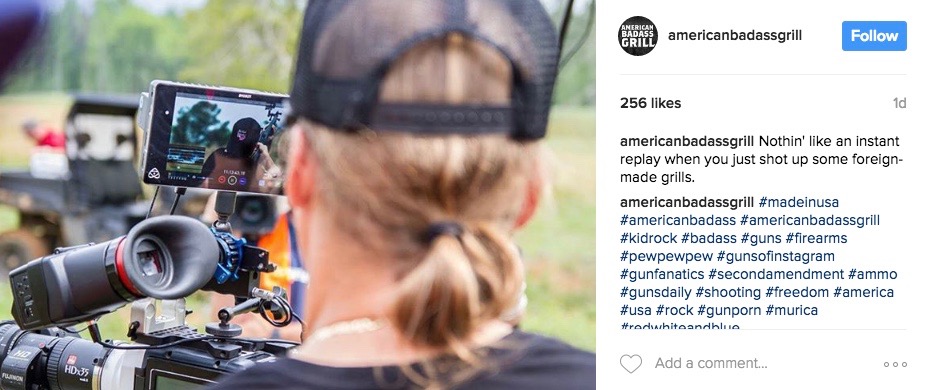 Check out the American Bad Ass Grill: http://americanbadassgrill.com
– See more at: http://www.billboard.com/articles/columns/rock/7717902/kid-rock-american-badass-grill-charcoal-gas
---
The American Badass Grill made the Late Show with Stephen Colbert! And as you may know a parody is quite possibly the sincerest form of flattery.


The American Badass Grill videos have gone VIRAL :
"Kid Rock promotes American Badass Grills by shooting at foreign-made competition" -Fox News
"Kid Rock Blasts China-Made BBQ Grills Because 'Murica" -Huffington Post
"Let's Watch Kid Rock Shoot Foreign-Made Grills Out of the Sky With a Shotgun" – Fox Insider
"Stephen Colbert Has the Perfect 'Dumbass' Answer to Kid Rock's Badass Grill " – Billboard
"Kid Rock Says Buying Chinese-Made Grills Is Pathetic, So He Is Blowing Them Up" – The Washington Free Beacon
"Kid Rock Launches His Marketing Campaign for His New American-Made 'Badass' Grills with a Bang" -Independent Journal Review
"Kid Rock Unveils 'American Badass Grill' Made Entirely in the U.S." – Loud Wire
"Kid Rock Launches New "American Badass" Grill By Shooting Foreign-Made Grills Out Of The Sky" – StereoGum
" VIDEO-Kid Rock Blasts Imported Grills With Shotgun: 'In Your Face, China' " -Breitbart
" 'Merica first" -CNN Politics Cover/Line