CLEARWATER, FL, November 30, 2020
2020 will go down in history for many reasons…most of them we'll all try to forget. For brands and marketers, there are a few consumer changes that you're going to want to remember. The most significant is the rapid and forced transformation of consumer experiences. According Safesforce, 63% of consumers say that the way they obtain goods and services has been altered as a result of the pandemic and 57% also say how they engage with companies has transformed during 2020. How should this shape your plans for 2021? Let's dig into some of these changes.
Buying Direct
No one can deny that direct to consumer brands have been rapidly growing the past few years. Diffusion PR's 2021 DTC Purchase Intent Index found that more than 2 in 5 Americans are familiar with a DTC brand, and of those familiar, 7 in 10 had made a purchase from one of those brands in the past year. During the pandemic, more and more customers have shifted their purchasing habits. This is due to a myriad of reasons including stay at home orders, convenience and difficulty finding products in stock at other places. These external factors that have pushed consumers to embrace new purchasing methods is a huge opportunity for brands. For example, a cooking appliance company we work with was able to leverage their investment in a renewed ecommerce experience to improve direct sales more than 400% compared to 2019. These sales aren't just more profitable, PayPal reports that these sales are increasingly from consumers with the most to spend. 44% of consumers surveyed that earned over $100K are very or extremely interested in DTC retail options. Additionally, direct sales enable a significantly improved connection with consumers that you don't get through mass retail. This includes the ability to collect and utilize first party data to make the shopping experience more personalized, to build consumer loyalty and improve advertising returns. This first party data will become even more important in the future due to limits on tracking put in place by companies like Apple. The bigger and more detailed your data store is, the better you can target your core consumer and create repeat purchases. If your brand hasn't embraced direct sales, or don't have a plan to improve your direct to consumer initiatives, you risk missing a huge consumer shift that's happening right now.
Convenience and Consumer Preference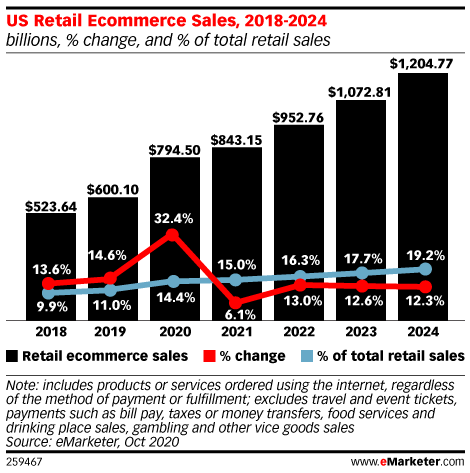 Convenience continues to drive customers purchasing habits. Salesforce reports that 67% of boomers and 76% of Gen-Zers say they prioritize convenience over brand. Ultimately consumers want to buy when and where it's easiest for them. Giving customers access to your brand in multiple places has been important this year more than ever. While retail is still king, the events of 2020 have further accelerated the shift towards online shopping. eMarketer reports in the side chart that that 14.4% of total retail sales are now digital, a significant year over shift from 2019. Smart brands are recognizing this trend and ensuring their products are available via many areas. We've already covered the importance of a DTC sales program. But, if you haven't realized it yet, there are almost zero good reasons to resist embracing Amazon as a sales channel. The same goes for third party marketplaces like Walmart, eBay or direct fulfillment opportunities through brand storefronts like WilliamsSonoma.com or HomeDepot.com. In the spring, one of our clients lost all sales at Bed Bath and Beyond when all their physical stores shut down due to the pandemic. We watched consumers rapidly shift to other areas almost overnight, with other outlets increasing to make up the sales lost from the closure. Consumer reported the biggest shift from buying in store to online for retail products according to PayPal, accounting for a 28-percentage point increase between March and June 2020. This isn't just a retail product trend though. During this same period Grocery purchases online increased by 13.7 percentage points and food 14.4 percentage points. It doesn't matter what industry your product is in, it's extremely important to explore new ways to be available to consumers when they're ready to purchase.   
These trends are likely to stick too. Even as stores have re-opened and consumers have had the opportunity to shift back to old habits, they haven't. PayPal reports that over half the consumers that indicated they would switch back to old purchasing habits in April, now say in June that they will maintain their digital habits. In fact, they also report that the amount of grocery purchases online INCREASED from May to June 2020, well after stay-at-home orders were lifted. Anytime consumer shifts happen, it can pose a challenge for brands. But there are rewards for brands that are agile and embrace new opportunities to adapt.
Here at Bluewater, we understand shift happens. Our experts across analytics, media, creative and commerce have helped brands leverage new technologies to build a DTC selling program, improve your existing one, or make the interactions with your customers stronger. We also offer a turnkey Amazon selling solution that lets you leverage this powerful sales channel while maintaining brand guidelines and control over pricing. Schedule a time to review your current efforts with us and get started on increasing sales.