In the recent weeks, I've noticed recurring discussions on the web about brand identity and its effect on a company's success. Obviously, we can all agree that brand identity is imperative to a thriving business, but why does it seem that so many fall short on its definition, only limiting themselves to logo design.

What exactly is brand identity? Brand identity extends past logo design, it includes branding, or "corporate image" which reflects the core values of the brand. Brand identity also heavily relies on design – or any kind of visual imagery – this includes marketing materials, web pages, product packaging, etc.
To get more insight into this topic, I figured I should ask Bluewater Media's very own Brad Nault. Being one of the driving forces of the creative design team for the past couple years, Brad has first-hand experience with building a brand's identity.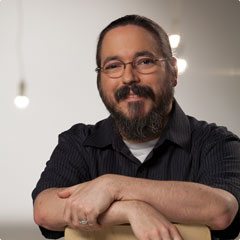 Jeremy Remot: Hello Brad, thanks again for sitting down with me.
Brad Nault: Of course, it's no problem.
JR: So why don't we just start off with a simple intro.
BN: Alright, my name is Brad Nault, I've been with Bluewater Media for about… 3 and half years now? That sounds about right.
JR: And in those 3 years, how many clients have you done creative work for?
BN: 200 or so…?
JR: That's more than I expected, how many years of creative experience do you have in total?
BN: 20 plus
JR: Wow. Okay, so for my first question, what do you think makes a good designer so essential for businesses?
BN: I'm a bit biased but I'd say a good designer or team of designers is one of the most essential roles for any business that wishes to present itself to an outside audience. If a business is dishing out average designs, weak concepts, and sloppy work… that will show and their audience will recognize them as such.
"a good designer or team of designers is one of the most essential roles for any business"
JR: I agree, it seems like a lot of these businesses value the idea of their brand identity, but don't devote the right amount of time and resources to it. So, what do you think is important when a company is trying to develop their brand identity?
BN: Having a clear and direct mission and vision statement is really helpful. Defining the company's goals, target audience and overall theme gives the graphic designer a better foundation to start from. It's the basics really…  Who are they? What are they offering? Why this brand? How will their brand change the world?  That last one may seem a tad lofty but sometimes a client can't explain how their brand might change the world…  It's part of our job to answer that question for them if they can't. Having the other 3 questions answered aids the designer in doing this more convincingly.
JR: Walk us through your creative process when you take on a new project.
BN: The process begins outside of my wheel-house. The salespeople and the marketers get together with the client and work out what the overarching goals are and what it will cost.  Once a clear indication of the client's needs is documented we can begin pushing forward.  Usually, the Creative Director will update me on what creative will be required. We have a discussion regarding the client's brand and work out the best way to approach the work so that we remain true to the spirit of the brand and the client's wishes. The key here is getting all of the pertinent information at the beginning so that every bit of creative done; whether it be a website, ad banners, B-roll, whatever… measures up to and carries forward the brand's identity.  Once we work out what needs to be done I set up tasks and dole them out to my designers or myself.  After that it's basically just barreling through it making sure we stay on brand and carve a clear path towards completion.
JR: What are some of the common mistakes you see companies make with their designs and their overall brand identity?
BN: A lot of times I'll see inconsistencies in brand identity. A lot of clients want to constantly change their logo or branding and it can handicap their brand recognition. It's like they're trying to reinvent themselves but they aren't established enough to make that move.
"…sometimes a client can't explain how their brand might change the world…  It's part of our job to answer that question for them if they can't."
JR: Before I let you go, what kind of advice can you give to companies out there looking for the right graphic designer?
BN: For the company, just be clear and concise with your creative goals. Be open to new creative ideas, constantly provide feedback and practice good communication. When you're looking for a graphic designer, find someone who is obviously knowledgeable and suitable for the job. They should have at least the fundamentals down. Color theory, product and package design and typography are essential. And of course, someone who is a good collaborator can take criticism and fun to have around.
JR: Definitely, well thanks for letting me speak with you I really appreciate it.
BN: Cheers
As you can tell, a good graphic designer is more than a smart investment when it comes to building brand identity. They don't just play a role at the beginning stages. As your company grows your brand identity evolves too so having a designer to help manage those changes is critical. Otherwise, not only will you find inconsistencies in your brand identity, your audience will too.