CLEARWATER, FLA. AUGUST 04, 2020
Life as we know it has changed forever. Selling product has also changed forever. Since early March, when COVID reared its ugly head and lockdowns, shelter-in-place and social-distancing became our new normal, buyers' habits have evolved in a way that nobody could have predicted. Online buying is now the preferred method of transacting which, in turn, has fast-tracked the retail apocalypse. Consumers are avoiding 'social' products and services like the plague (no pun intended) – party, travel, hospitality, events, luxury goods. Marketers have their work cut out for them and they've had to pivot their strategy to keep up with the rapidly changing trends. Here at Bluewater we understand these dilemmas and have developed and implemented some proven strategies for our clients to continue growth during these crazy times.
Growth during the pandemic
We work with brands who have experienced huge growth during the pandemic. Some of them sell products that make life easier during stay-at-home orders. Think in-home exercise equipment, bikes, grills, kitchenware, home improvement, supplements, heck even lingerie to name a few! These brands, whose products are so hot right now, but also other brands whose products are not, have all needed to pivot their messaging to be hyper-relevant to the current situation, and, in doing so, have been able to scale their advertising budgets while reaping exponentially higher ROAS. They have proven themselves to be recession-proof and have firmly planted themselves on the brand affinity map. Bluewater has helped them grow their customer and prospect base and they are set up for future success far beyond the COVID era.
Mask your media—To cancel or not to cancel?

As the economy began to experience a downturn with the Coronavirus pandemic, many brands pulled out of advertising fearing that sales would nosedive at a time when unemployment is rife and discretionary spending is a low priority. But is cutting or canceling your advertising budget really the right thing to do? We at Bluewater advise and recommend to the contrary. Now, more than ever, it's crucial to continue advertising, using cost-effective media [link to the 3 tips post] strategies that will keep budgets at affordable levels while driving growth for your company.
Top reasons to keep advertising during economic uncertainty:
TV viewership and Digital Consumption are at an all-time high as more time spent working and staying at home means more time in front of a screen.
It's less expensive. With less advertising competition, ad costs across the spectrum are lower – and you get more bang for your buck.
It's easier to gain share of mind. With less competition, you can gain share of mind in the short-term and gain market share in the long-term.
It shows corporate stability. Showing up in front of your audience with positive, reassuring messaging reflects a strong, trustworthy brand. Brands that continue to advertise during a recession send a message of confidence and belief in the future, positioning themselves for even more significant growth when things bounce back.
In some cases, this may mean pivoting your messaging to be less direct response, less sales driven and more of a branding play. Being agile and making this type of timely pivot is key. Shifting goals from being direct sales focused to long-term focused may be the right move if your product or service isn't a priority for consumers right now. Whatever the approach, it's crucial to stay top of mind during these uncertain times. This can be done with reassuring messaging that tells your audience that everything will be alright, there's light at the end of the tunnel and, when we come out at the other end, [insert your brand name here] will be here for you. Buyers feel better about brands that advertise during a down economy.
Fertile grounds

It may seem like a paradox, but recessionary periods actually provide fertile grounds for brands to grow their market share if they're prepared to think long-term. At Bluewater we have seen, time and time again, during past economic downturns, that companies who advertise during economic uncertainty see sales growth during and after the fact. And companies who reduce advertising in tough financial times…shrink. Brands who continue to advertise in a down economy, not only fare better than their competitors, but can increase their market share at a lower cost.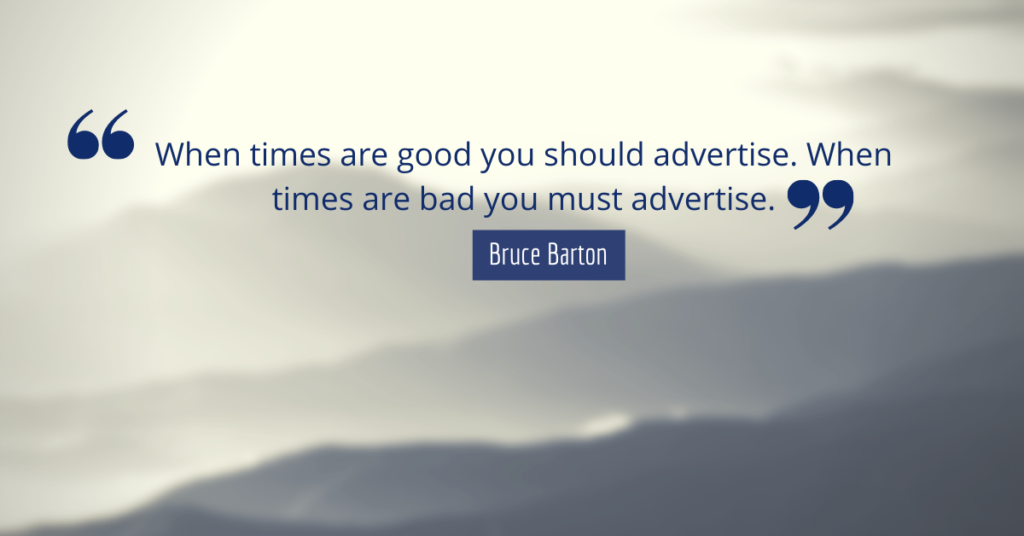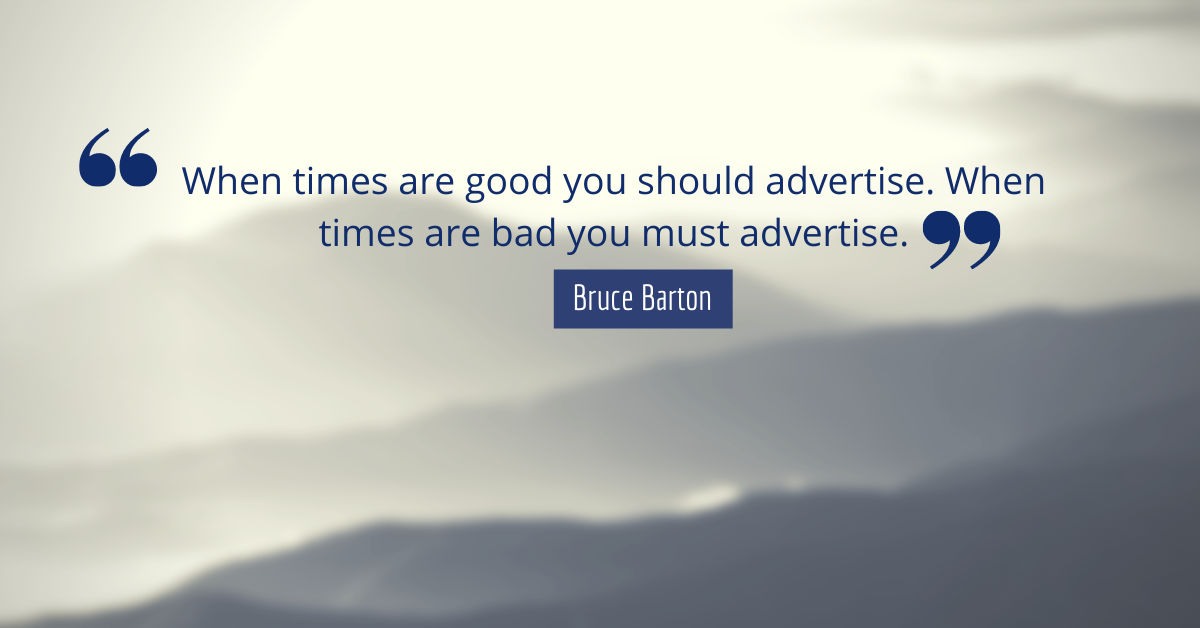 Companies who advertised after 9/11 saw their market share rise, as did those that maintained their advertising budgets during the 2008-2009 Great Recession. A famous example is Amazon whose sales grew by 28%  during the "Great Recession." They achieved this by continuing to market to their customers and staying top of mind with its Kindle product.
Despite the successful track record for companies who continue to advertise, many will still pull back – this is good news for the rest of us!
The price of masking your media, and going dark.
Kantar, the market research and data insights firm, estimates that brands who go dark during this pandemic will have a 39% reduction in brand awareness. Regaining their foothold will be a long and hard struggle.
Evaluating brand recall over the past five economic downturns, Kantar's database shows that companies who cut advertising efforts by more than half during a recession took between 3 – 5 years to recover to pre-recession levels. 

Stay the course with Bluewater
It may not seem like the obvious thing to do but maintaining a solid advertising presence during these challenging times is crucial to your brand's success. It requires planning, strategic-thinking and, above all, a strong conviction in the "why" behind the decision. As an agency, Bluewater has weathered many recessions and we have the experience, data and resources to be able support our partners and guide them through the worst of times with poignant, recession-busting marketing solutions that will grow their business at a time when most are struggling to stay afloat.
About Bluewater:
Bluewater is a converged advertising and marketing agency that utilizes digital and broadcast creative, media strategy and transactional e-commerce to introduce products to market and build lasting brand awareness. Bluewater was the first end-to-end, fully digital, tapeless studio in the state of Florida. Its digital division provides social media, digital production, digital advertising, and turnkey solutions to maximize product visibility and sales on consumer websites, Amazon and other marketplaces, including handling all aspects of inventory, marketing, and the sales process. Visit the company website at https://bluewater.tv or on LinkedIn @bluewater-media.